Welcome To The Henry Gross Website
The Prolific Singer/Songwriter Busy Entertaining America For 30 Years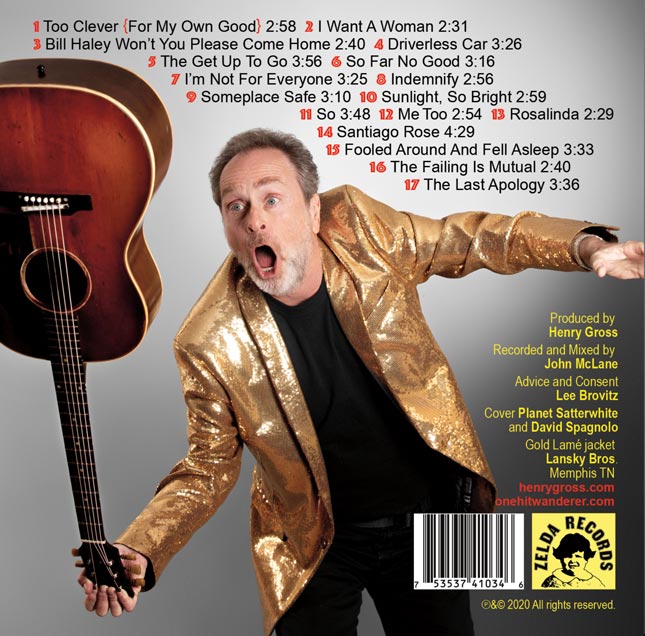 Songs and arrangements influenced by everything from early rock n' roll to reggae, latin, and comedy! A one stop shop for all your Rockin' Dreams!
Get Gross
Buy Merchandise From Our Store
Throughout Henry's expansive career, he has produced over 15 albums some of which hold over 20 tracks on them. Here is your opportunity to purchase them. There are CD's, CD combination packages, rare vinyl and creative merchandise made especially for Henry Gross fans. Check out our shop now!
One-Hit Wanderer
One Man's Musical Journey
Heartache, triumph and love can be found in anyone's life, but put it to music and then you have the makings of an artist. Henry Gross explores his fascinating history in this electrifying one man show. With music, jocularity and a great deal of nostalgia, Henry's stories and songs will take you back. Join Henry at a performing arts theater near you and feel what it is like to have "a" hit.
Keep On Rockin'
Henry Is Currently On Tour
With over 15 albums spanning a 30 year career, Henry Gross has a song for every occasion and town. His eclectic musicality and hilarious personality makes him one of the most sought after performers. Henry brings nostalgia with his older music and introspection and humor with his latest releases. Henry always performs, with his trademark falsetto, "Shannon" and tells the story of the song and how the hit affected his life. Don't miss any of Henry's upcoming shows in your area.
The Great Days
The Story Behind The Video
The following is a message from my dear friend, Patti Petow, who continually uses her considerable talents as a publicist and now a filmmaker to help bring my music to a wider audience. Her idea to let fans and friends contribute great moments from their lives was a brilliant way to bring the message of the song home. To quote Buzzy Linhart: "Ya gotta have friends". And I'm certainly lucky to claim Patty as mine. Henry "I truly love Henry Gross. A prolific lyricist engaging performer, his music is as relevant today as it has ever been and keeps rocking us all along. When I heard "The Great Days" it brought back good times – those great, singular moments that carry us through to even better times. The message Henry brings us through "The Great Days" is a universal one, one that touches each and every being – that evokes heartfelt sentiments of days spent laughing with loved ones, of triumphing over adversity, of kindnesses given and received. Of love. It made me want to celebrate those feelings. And what better way to celebrate feelings elicited through Henry's generous gift of music than through his fans! This photo/video montage is my attempt to give a little back to Henry and thank him for gifting us with his talents. The photos have been donated by friends and fans and honor the love and strength of the human spirit. Thank you to all who shared a photo for this video. To the Great Days!" - Patti Petow
Quotable Quotes From Henry's Lyrics
" The Impossible takes a little bit longer"
The Impossible
off One Hit Wanderer
"Must be Angels by my side standing guard and acting as guides"
Must Be Angels
off One Hit Wanderer
"The truth is not for everyone."
The Truth Is Not For Everyone
off Rhymes and Misdemeanors
"If misery loves company... let's open a bottle and whine"
Let's Open A Bottle And Whine
off Foreverland
"When the organ grinds, I see dollar signs, money makes the monkey jump!"
Money Makes The Monkey Jump
off Right As Rain
"Nature's balance seemed upset, the night you picked up the check."
The Night You Picked Up The Check
off Right As Rain